In a PR piece worthy of Old Hollywood, AP's Ian James has come up with this beaut (pay attention to the lovely text – emphasis added):


On the road with Sean Penn and Chavez
LA GRITA, Venezuela (AP) — Aboard the presidential jet, a grinning Hugo Chavez put a hand on Sean Penn's shoulder, praised his acting and added: "And he's anti-Bush!"

The Venezuelan president reveled in his role as host to the Hollywood star as they flew across the country Friday and traveled through the countryside in a military jeep with Chavez at the wheel, stopping to greet cheering supporters.
Can you spell Potamkin Village, Sean?
But let's not spare the anti-American rod, lest it spoils the child, since there are poorly-veiled threats to make,
Enlivened by his conversations with Penn, the socialist president lambasted the U.S. government for "destroying the world" with war and warned of brewing economic troubles, saying Washington should do much more for its own poor.

"There could be a revolution there," Chavez said. "We'll help them. The United States must be helped because the United States is going to implode."
But back to feeling the loooove,
Penn's star power was eclipsed by Chavez, who honked to flag-waving admirers along the road through a mountain valley and stopped to kiss children and clasp hands with screaming women.
As it turns out, Ian did two versions of the same skit, since we all know that two are better than one: Sean Penn takes back seat on Chavez tour, but the loooove flows all over the place,
It was a familiar scene for Chavez, who grew up poor in a small town in rural Venezuela, and who loves to show visitors what his government is doing for everyday Venezuelans.
I've been quoting that very phrase out of a Venezuelan government ad that ran in the NYT in December 2005:
charismatic-leader-helping-the-poor-offering-free-health-care-education-adult-literacy-and-job-training-initiatives-that-help-millions-of-Venezuelans,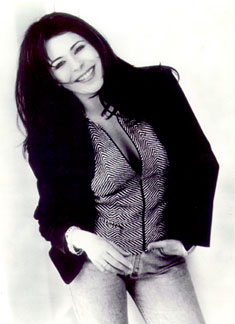 Luckily there is a star who's got the eggs to stand up to Venezuela's Communist-in-chief:
Cuban-born actress Maria Conchita Alonso, who grew up in Venezuela, said Penn's visit lends support to a "totalitarian" leader who wants increasing control of society—a charge Chavez denies. Speaking by phone from her home in Beverly Hills, California, Alonso said she respects Penn as an actor, but hopes he "comes to his senses and he realizes that he's being used."
Too bad they don't give Oscars for integrity.
Update, Monday 6 August
Via Jeremayakovka, Sean's gun trouble