The guys are away camping this weekend so I'm indulging in one of my favorite pastimes (aside from listening to viola da gamba and Bryn): watching old movies. I don't rent them on Netfix, I just take pot luck with AMC and TCM.
As it turns out, AMC's playing The Grapes of Wrath,

and TCM has Dark Victory

As you can see from the trailers above, each movie had its own agenda; The Grapes is a socialist vehicle; Dark Victory was Betty's vehicle. They're both excellent films in their class. 1939-1940 was a great time for movies.
The first time I saw The Grapes I was greatly moved, both by its message and by the actors. Now I can't help but think of this

The first time I saw Dark Victory I must have been 10 or 12 years old and was probably watching it with my sister. We cried our guts out, of course.
The trailer has it right: "See Glamorous BETTE DAVIS". Glamorous she is. Bette wears a succession of spectacular outfits, including evening gowns by Orry-Kelly, that would look stylish today. You can sit there and learn all there is to be learned about what was considered The Look in 1939 just from watching this film.
Bette has an incurable brain tumor and is dying through the whole movie. George Brent is her doctor, who, unlike House – who would have laid the truth on her like a thick (and very unstylish) wet polartec blanket – doesn't want her to know that she's dying. After brain surgery that spared her hair – except for a small section that she covers with a clerical-looking beanie dyed and decorated to match each spectacular outfit – George and Bette's friends (among them Ronald Reagan) keep up a clearly contrived brave front.
And then Bette finds out.
Of course, Bette does what any reasonable glamorous socialite would do under the circumstances: she runs out in her mink coat to the barn where Irish stable boy, Michael O'Leary, played by Humphrey Bogart, awaits.
Bogey's his usual smoldering self, and has the best lines in the movie. There they are in the stables, Bette smokin' and Bogey in her presence, saying,
"I guess I was born out of my time, Miss Judith. I should have lived in the days when it counted to be a man, the way I like to ride and the way I like to fight."
Oh yes.
Michael/Bogey goes on:
"What good's riding and fighting these days? What do they get you?"
Beanie-wearing Bette appraises him with a knowing glance, lets out a puff of smoke, and replies,
"You're making love to me, aren't you?"
Hot stuff.
But wait, there's more:
Michael/Bogey: "I'm as good as some of them whose been playin' around with you. They're all afraid of you! I wish I was in their boots!"

Judy/Bette: "What then, Michael?"

Michael/Bogey: "The things I wanted to say to you ever since I first laid eyes on you… belong to me and no one else."
Then he takes her in his arms and kisses her passionately.
M'm.
Good stuff. You can watch that whole scene in the trailer above.
Now excuse me. The Joads are still having a hard time, and I just realized that the blouse and cardigan I'm wearing make me look like Ma Joad. I must go look for something more stylish.
But before I go, here's a nice photo of Bogey

—————————————————–
For more entertainment pleasure, Dr Sanity has the Carnival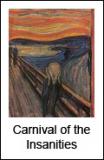 Speaking of stylish, The Anchoress is looking beautiful.

technorati tags: Bette Davis Humphrey Bogart Ronald Reagan