Well, it looks like that NY gallery cancels naked chocolate Jesus, but today, Palm Sunday, the artist says that offers to buy or exhibit a nude chocolate sculpture of Jesus Christ have poured in.
Catholics around the world are rioting and asking for the artist's head on a stake over this scuplture, which was scheduled to be shown on Holy Week, during the high holiday season. Oh, wait – it's April 1st!
Update, Monday 2 April: Leave it to Lileks to find the postcard.

—————————————————–
Via
Pajamas Media
,
Ten of the best April Fool's Day hoaxes
—————————————————–
Speaking of April's fools, the people looking for "Bear Grylls naked" keep coming back to my blog. Imagine their disappointment! (Try YouTube, folks)
—————————————————–
Dr Sanity has a special
April Fool's edition of the Carnival
: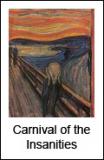 And the Sanity Squad's podcast really did make it!