I should be at the gym right now, but would rather stall, so there – a little Sunday morning snark:
For the first time in American history a high-ranking State Department official caroused with prostitutes. Unfortunately for him, he's not a Democrat, and the prostitutes are not male.
Show the Dem Cong your support.
Somebody tell that woman to shut up. Her fake drawl alone would be enough give Kramer seizures.
I bet his neighbors are starting to get worried.
Israel did't make it to Nassau Hall yesterday.
The NYT's idea is to keep telling the Iraqis the NYT doesn't believe they're worth the trouble. Maybe they should hire Omar to explain it to them.
Since Fidel's always been reluctant to speak for himself, now Evo's telling us Fidel will be back on Tuesday, but I rather rent the video instead.
Via Pajamas Media,
Dr Sanity has the Carnival,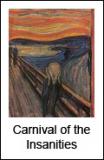 She also has THE POLL RESULTS THAT DON'T MAKE THE HEADLINES