As record low temps put a crimp in Augusta, and here in Princeton we get dressed for Easter in our winter coats (right now it's 30F outdoors), my young relatives in Fredericksburg, VA might be doing their Easter Egg hunt in the snow.
To celebrate the ocassion, Larwyn has a selection of posts for our enjoyment:
The UN's IPCC Global-Warming Bunko Scam
Will there be consequences to the Global Warming foolishness?
UN: Global Warming To Wipe Out All Life On Earth Within 20 Years; Women, Minorities Hardest Hit, and Moe and I assure you the bamboo will still be there. The old ads used to say "a diamond is forever." Not true: diamonds can break, but bamboo just keeps coming back.
Update: Louisiana Conservative reminds us that The Great Global Warming Swindle is available on You Tube. (end of Update)
Larwyn was pondering Nancy's Hermes scarf:
I was truly trying to keep my petty thoughts on the Speakerette's fashion sense to myself, concentrating on the statement she made by covering her hair. I have not seen anyone call her on the choice of the pattern on this scarf.

It was a pattern of fallen Autumn leaves, dead leaves.

She was on Easter break, the cherry blossoms were already out, so her choice of pattern is totally out of sync with the season. and the season's colors. That is a Sept/October scarf. Not an April scarf. And no excuse that it was the only one they packed for her. The Autumn patterns and colors, along with the Winter/Christmas deep rich burgundies, mustards and teals are already in the back of the drawer, the bottom of the pile.

Her choice was deliberate, as a replacement was easy to find, she was in one of the scarf selling capitals of the world.

It is my opinion that she was sending a message, that Bush's policies are dead. Blowing in the wind just like Autumn's leaves and once they impeach Bush and Cheney, the whole world will see who's in charge.
BTW, how do I know it's Hermes? My educated guess is that it's Hermes because the scarf is made of heavy-gauge silk that doesn't "crumple" into a fold or slide off easily, and the rolled hem is rolled up, into the side with the pattern. Mac finds More Calls for Pelosi to Resign – From a Democrat
Check with Dr Sanity for the Carnival: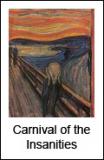 ———————————————————-
Happy Easter to all my visitors, and a special heartfelt Easter wish for
Mickey
.