Round-up and commentary: HIGH STAKES HOLD 'EM IN THE PERSIAN GULF: IRAN TAKES CAPTURED BRITISH MILITARY TO TEHRAN
PJM Barcelona, LA, Seattle, Tel Aviv
Gateway Pundit has two posts, Blonde English-Speaking Terrorists Operating in Iraq, while Al Sadr Loyalists Call For Release of Arrested US Soldier Killers
Meanwhile, is Murtha staring at a disaster?
Special thanks to Larwyn for the links

—————————————–
EU Referendum has a series of posts on the celebrations of the 50th anniversary of the EU, starting with
Definitely not "us"
How do these people have the nerve to present themselves as speaking for us, any of us? How can this woman, a leader of a different country, possibly speak for me?
Go to EU Referendum and scroll down.

—————————————–
Reality of Venezuela's 21st Century Socialism hits the blogosphere
, if not the MSM.
—————————————–
Gerard is being
sublime
, again.
—————————————–
Bear time!
No, not
Grylls
, the other bear!
Maria sent the video of Knut the Bear with his dad, Mr. Dorflein:
—————————————–
Dr Sanity has
The Carnival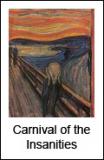 Siggy
ties in the Carnival, the Iranians, and the French.