Video of Ayaan Hirsi Ali at the American Enterprise Institute (go to this page if the link doesn't work). (h/t LGF). Hitchens asks a question 30 minutes into the program.

Wretchard talks about Casablanca at Belmont Club:
And Casablanca was produced at America's lowest ebb, in 1942. In it men fight for love, self respect and defiance. They are always free to choose; even go over to the enemy to regain a lost romance. There are no demigods at Ricks Cafe. Only a humanity driven there by circumstance: gambling, dreaming, scheming, resisting, grasping and sacrificing. As time goes by.
Time for the Carnival: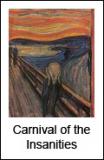 Breaking news: The Carnival is now government approved (finish your coffee before you go there).
REMINDER: Fausta's Blog Talk Radio live tomorrow Monday February 19 at noon


Don't forget to listen to last week show