I'm still getting the NYTimes delivered early on weekends, even when I not only called, emailed, and wrote five weeks ago, but actually haven't paid for the deliveries for five weeks. Nonetheless, their Styles section continues to provide fodder for the blogger:
On page 18 they have a half-page full-color ad for the MotoRazor cellphone, with Dolce and Gabbana. Since I'm not a D&G devotee (I'm certainly more of a Diane Von Furstenberg type), I can't tell Dolce from Gabbana. Dolce (?) wearing black is holding the cellphone (posed to look as if it were a barber's razor blade) on his right hand, while Gabbana(?), in white, has a cut down his face.
The whole thing looks ugly.
Now, I realize that mutilation's become trendy among some. Last week the program where two families trade moms featured a mom who's a tattoo artist and the whole family is heavily into piercing, too. There's even a TV series called Miami Ink glorifying the art of the tattoo, which all the participants consider sexy.
It wasn't too long ago that tattooing meant that the guy had had too much hooch while on shore leave.
Now everybody and their mom has a tattoo. And they all think it's sexy.
Is this due to the culture of pornography that Alabama Liberation Front was discussing this week, where nothing is more important to a woman than that she be "sexy"? One can argue that this is a standard by which women are encouraged to self-mutilation, in the form of plastic surgery, so they too, can be "sexy". Not beautiful, not attractive; sexy from a pornography standpoint. Nowhere is this more obvious than in the case of teen girls getting breast augmentation surgery as a birthday gift from their own parents.
I'm not a shrink but all that this tattooting, siliconing, lifting and enhancing tells me is that there are a lot of people out there who can't get themselves to live comfortably in their own unadorned skins.
But back to the ad, while I'm sure Motorola thinks they are sharp (all puns fully intended, as always) and on the cutting edge of fashion – the copy actually reads "The cutting edge of technology" – it makes me wonder WHY consumers would find the ad appealing.
Also in today's Styles section, the latest trend in avoiding the ultimate commitment, The Sit-In at the Altar: No 'I Do' Till Gays Can Do It, Too. Since nowadays nobody will believe you when you say "we can't get married because my spouse won't give me a divorce", people had to come up with a different cop-out.
Missing from the Styles section are the articles that followed-up on the Vows weddings. The only couple I know whose wedding was featured in the Vows (a wedding I missed due to illness) divorced years ago. Instead, an article on brides behaving badly. At least this week's wedding couple look like they stand a chance: the bride's a matchmaker.
As an afterthought to all the tattooing and surgery, if I were considering a career in medicine I'd focus on the latest technology on how to erase scars and tattoos. I suspect there's going to be a demand for that in the next decade.
Now excuse me while go watch TV: Powell and Loy are in Libeled Lady, playing on Turner Classic Movies. That was back in the days when newspaper editors hired gigolos to compromise heiresses. Nowadays, the only way to compromise a gigolo would be to hire an heiress.
We've come a long way, baby.
Update, Monday Dec. 4: Men have a need to conquer and until they find a purpose to their life, will attempt to conquer women.
So much for the Styles insanities; Dr Sanity has the Carnival of the Insanities today.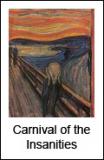 ——————————
Today's item at the
Christmas Store
: a cork dartboard and real darts.