"Don't put your bust in your plate" (and how would I do that in the first place??), and don't moan over the beef Wellington, says the Belle Ecole. Like they do in Latin America, make sure to keep your hands on the table.
If all these rules prove to be too much, you then have to find a French guy to pour you a glass of wine. Luckily, that's the easy part. The difficult part's getting rid of him once you have your drink.
Yup. They're from France.

——————————–
Drink 'cuts brain injury damage'
.
No word as to whether you should pour yourself the drink, or find the French guy.
——————————–
Yes, the NYT is
still
being delivered. On today's front page, the story of
the mother of all Freudian slips
. Says the article,
"It's very Freudian."
At least it didn't involve his mother.

——————————–
ATTENTION, LAST MINUTE SHOPPERS
(h/t
Beth
)
——————————–
The Doctor has the Insanities!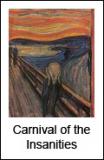 ——————————–
Burberry news the
Anchoress
will find interesting,
More blogging later if time allows.