My grandmother Faustina had beautiful hands all her life (well into her nineties) because
1. she didn't do housework
2. every time she went out in the glaring sun she wore white kidskin gloves.
Of course grandma Faustina was a much tidier person than I and her white gloves remained immaculate, but I must have inherited the accessorizing gene from her.
Grandma Faustina would have approved of the latest trend (via the NYT, which, again, was on the driveway this morning):

White gloves are hot this year and provide just the right finishing touch, whether paired with a little black pea jacket or a mink capelt.
Since Grandma Faustina lived most of her life in tropical Puerto Rico I don't believe she owned a mink capelet, but I'll have to check with my mom.
While I check, here are silk-lined white lambskin gloves for you via Amazon, to go with your mink capelet:

I'm not a mink capelet type, and untidy as I am, I'd be insane to wear white gloves. I do like the red ones.
For further insanities, here's the Carnival: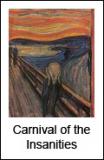 Update
This year the APEC attendees got to pose in their pajamas:


Better the pjs than the ponchos.
(technorati tags Carnival of the Insanities fashion Accessories)