I have a passion for Early Music, and nearly worship Jordi Savall and his recording label, Alia Vox. I developed an interest in this music after listening to the soundtrack of a thoroughly depressing film, Tout Les Matins Du Monde, where Mr. Savall knocked my socks off with a magnificent rendition of Marais's Spanish Variations. Mr. Savall plays the most sensous of musical instruments, the viola da gamba

Mr Savall has produced an impressive body of work, and performs along with his exceedingly beautiful and talented family, who are exceptional musicians on their own.
Here are two selections from Alia Vox that I recently purchased:
Metamorphoses Fidei (Metamorphosis of Faith), which the CD booklet states,
The programme offered in these Metamorphoses Fidei is the expression of a mestissage of different cultures and music which came together thanks to the presence, contact and coexistence of people in Old Hesperia during the Middle Ages, a process which was intensified as a result of the discovery and conquest of the New World.
I find these songs at once haunting and relaxing.
Equally enjoyable is Diaspora Sefardi (Sepherdic Diaspora),

The Sephardic Jews, scattered through the world after their expulsion from Spain in 1492, kept alive for centuries not only their language, Ladino, but an extraordinary repertory of "folk" songs, many of them quite sophisticated. As Ladino culture began to slowly fade away over the course of the 20th century, musicologists collected and transcribed these melodies from Ladino-speaking communities in Sarajevo, Sofia, Salonika, Smyrna, Jerusalem, and other cities. Beginning in the 1970s, these extraordinary songs were revived (to considerable excitement) for concert audiences–a revival sparked in large part by a 1976 recording by Hesperion XX. This now-legendary early music ensemble, renamed Hesperion XXI for the new century, has returned to the music of the Sephardic Diaspora with this beautifully produced and packaged release.
Enjoy them all, and bask in the beauty of their joyful music.

——————————————–
It's Sunday, and the delightful Dr. Sanity has the Carnival!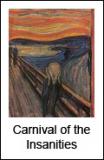 (technorati tags Jordi Savall, Hesperion XXI, early music, Middle Ages)