there's a flap about the Presidential back rub!
There was hand-holding, too:


Thank goodness the Beeb approved of the hand-holding:
Holding hands

Germany's Chancellor Angela Merkel has done much to foster better relations between the US and Germany. Mrs Merkel seems to have a good personal chemistry with Mr Bush – as indicated by this picture.
Expert's view: In this picture with German Chancellor Angela Merkel, he looks masterful. His hand is firmly on top of hers and he looks straight ahead while she looks at him.

Bush is a lot more media-savvy than people give him credit for.
Prior presidential touch-feely incidents abound (hat tip Gateway Pundit)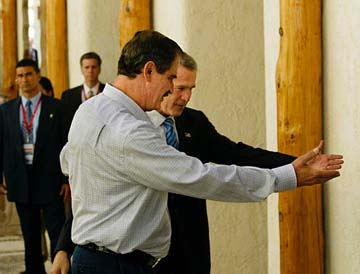 but at least the Pres. didn't drool on Chancellor Merkel's hand

Meanwhile, click on the photo to see who this is:


(hat tip TigerHawk)

——————————
A reminder: Fausta's blog has
a new address
. Please update your bookmark and your blogroll.
(technorati tags
Bush
,
Merkel
)