Gateway Pundit sends an appeal
Please Help… This US Iraq War Veteran Urgently Needs Assistance
Whan that aprill with his shoures soote
Geoffrey Chaucer Hath a Blog
Today's articles from Maria
The French job funk
France's flirtation with and eventual embrace of socialism goes back more than a century. The late President Francois Mitterand effectively implemented socialism as national policy in 1981 when he issued his "110 Propositions," which included a program to nationalize many industries. Seven of France's largest 20 conglomerate industrial companies were nationalized, as were 36 banks and two finance companies. Mitterand's misguided plan was designed to ensure that the government would have sources of capital for the nationalized sectors.

The French state accounts for about one-fourth of the industrial output of France. Among those employment enterprises with 2,000 or more employees, one-half are in state enterprises.

In typical socialist fashion, Mitterand tried to reverse a stagnant economy with collectivist tactics instead of using capitalist tools. As would be proved in other socialist states, a heavy government hand stifles initiative, restricts capital creation and leads the worker for the state or state-subsidized enterprise into a false sense of job security. It also makes it more difficult for one to achieve independence and success, as part of an upwardly mobile career in a position that produces products and services consumers truly want and need. In a socialist society the reverse always occurs, resulting in despair, high unemployment, mutually shared poverty and riots in the streets to protest the broken promises of the state.
Teddy's terror loophole: the Gerry Adams provision.
Simply put, the language Sen. Kennedy inserted into the Immigration and Nationality Act in 1990 states that consular officers cannot refuse a visa to someone on the grounds of advocacy of terrorism. He did this because his pal, Gerry Adams, had been denied a visa because of his role as an advocate for Irish Republican Army terrorism in Northern Ireland.
Prince Charming, who isn't.
Mexican illegals vs. American voters
Carnival time!
El Zorro Viejo's hosting Carnival of New Jersey Bloggers #46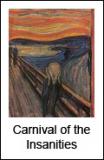 Today's video
Matzo Wrap
One more thing
The last thing I'd need:
They're baaaack
Music, maestro!
Via Irwin, Bush was right
Update
Jay will be a guest in the Tammy Bruce Show today between 12 p.m. and 1 p.m.
(technorati tags France, Terrorism, Prince Charles, Immigration)