Bada-bing! Bada-bang!
Today's news items you won't be hearing about in the news
Former judge admits issuing Dujail death warrants. On February 28 Saddam admitted ordering the trial of 148 Shias who were subsequently executed, but you didn't hear about that, either.
For pointing out that the Media shockingly ignorant of Muslims among us, Mark Steyn's been dropped by both the Sunday Telegraph and the Spectator. Won't bet on hearing that in the news, either.
Speaking of items ignored by the media, I bet you didn't hear about the latest al-Qaeda warning of two upcoming attacks in the USA. Jay has.
BNP's Congo corruption
A Corrupt French Connection in Congo, involving BNP Paribas:
Whatever the French bank's role, Congo's corruption appears not to offend the French government, which has led the charge to grant Congo debt relief even though the evidence of its unworthiness has been reported in the French press. In a detailed article in December, the French daily La Tribune explained how millions had been siphoned out of the national oil company and how yet more millions failed to make it from the national oil company to the national treasury. But, as La Tribune noted, President Jacques Chirac and Congo's ruling strongman are old friends.

This is a scandal, and it's hard to see why the rich world's taxpayers should tolerate even a hint of debt relief for Congo. Last year the country earned more than $2 billion from oil, or $600 per person; if it spent that money competently, it would not have two-thirds of its people living below the $1-a-day line. But rather than send that message, the World Bank and the IMF have cut Congo's debt payments and held out the hope of outright debt cancellation, provided that the country meets various anti-corruption conditions. In the past, Congo has mocked such conditions. It would probably mock them in the future the day after full debt cancellation went through.
I have posted about BNP Paribas in the past and their close connections with Chirac.
"Retarded" Taliban critics
Sigmund, Carl and Alfred sent a WSJ article A university official calls Taliban critics "retarded" while the university maintains a stony silence. Mark my words, "former" top Taliban official Sayed Rahmatullah Hashemi will one day be a Yale faculty member. If the current furrore prevents that, then he'll be in the faculty of another university in the USA.
And I say "former" because, as Curtis Sliwa can tell you, one never leaves the Mob.
At the blogs
Barcepundit remembers March 11.
Le Déjeuner sur l'herbe: and now it's time for a little art history.
Today's articles from Maria
Dr. Wafa Sultan shows what courage is about.
Showbiz in shackles: Media wary as censors gain ground. The article has a narcissistic sense of moral equivalence, where Chinese oppresion's equivalent to poor Spielberg having to state that The DaVinci Code's fiction, and also brings up the Rachel Corrie play I've previously posted about:
A New York theater decided last week to "postpone" a play about real-life American pro-Palestinian activist Rachel Corrie, who was killed by an Israeli bulldozer in 2003. The decision by the New York Theater Workshop, which was attributed to complications with the lead actors' schedules, has prompted a barrage of e-mail messages accusing the theater managers of cowardice. The drama played to packed houses in London without any incidents.
Look, if Rickman was serious about this play, he could use $500,000 of his own money (according to a reliable source, that's what it would cost to put up the production in NYC) and open the play in Seatlle, Corrie's hometown. I expect that it'd cost less to put up the play in Seattle than in NYC. The rest is hot air, spin, and publicity. As Cindy Adams said, GOT GRIPES? ENOUGH ALREADY!
Sean Connery Undergoes Surgery for Kidney Tumor
If Michael Jackson Converts to Islam Jackson's lawyer has described him as "living permanently" in Bahrain, btw. JAILHOUSE JIHADISTS
The Caliphate is Coming, if we allow it.
Was about time! BLOOMY SUSPENDS 'HATE TALK' IMAM.
Iraqi authorities hanged 13 insurgents yesterday, marking the first time terrorists have been executed in the country since Saddam Hussein was ousted.
Bennish to teach again. Pinko teachers, Inc
New photo resparks 'Noah's Ark mania': Digital image of 'Ararat Anomaly' has researchers taking closer look
In a lighter mode
Finally, a Bush impersonator that actually looks like him. And Blue Collar Comedy has it!
And don't miss the Carnivals
The JG Bounce With Me Carnival of the NJB #43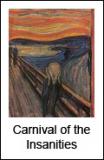 (technorati tags Sopranos, Saddam, Taliban, War on Terror, Iraq, al-Qaeda, George W. Bush, Congo, Alan Rickman, Arnold Schwartzenegger)