A blurb for Blurb
Via José Carlos Rodríguez, From Blogger to Published Author, for $30 and Up
Though not all blogs may aspire to literary permanence, they can achieve it through the new Book-Smart software from Blurb, a publish-your-own-book service. The software, which is expected to be available free later this month at www.blurb.com, features a "Slurper" tool that automatically downloads and reformats the contents of a Web log into a book that bloggers and their admirers can purchase online.
Oscars take a bow . . . or two
I didn't watch but PJ Media live blogged it. Then this morning the TV news had a clip of Clooney saying he was proud of being out of touch.
We already knew that, George.
At least the only movie I was rooting for won.

It was a big night for big bows!

Maria's articles
Two are Oscar-related:
Where is Brokeback Mountain? Not where you think!
The reality of Paradise Now
A weird story from California, Sheriff denies hearing about terrorist sighting, But couple insists they told top cop they spotted 'next Mohamed Atta'
Eat your broccoli, Brussels sprouts, kale and cauliflower, turnip greens, mustard greens, collard greens, cabbage (especially purple cabbage), carrots, green and red peppers, onions, celery, parsley, eggplant, tomatoes, artichoke and cilantro
And the Carnivals
Carnival of the New Jersey Bloggers #42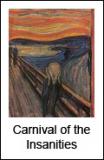 More blogging later today.