Chavez, totalitarianism's clone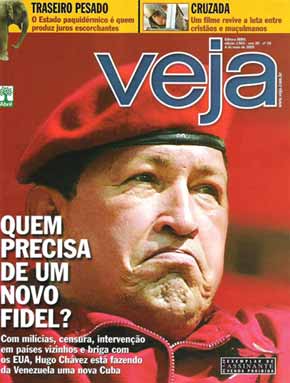 is the title of Brazilian magazine Revista Veja's May 4 cover story (via VCrisis). The magazine cover reads, "Who needs a new Fidel? With militias, censorship, intervention in neighboring countries, and quarrels with the USA, Hugo Chávez is turning Venezuela into another Cuba."
The article hits hard, and starts by saying (my translation — pardon any mistakes, since I'm not well-versed in Portuguese),
Venezuelan president Hugo Chávez, who's been in poser for over six years, threatens Latin American stability with his support of radical groups in neighboring countries, his forming a civil militia, his use of oil for bribing Central American republics, the purchase of weapons, and his alliance with Fidel Castro's Cuban dictatorship, of whom he's becoming a misshapen clone. In Venezuela, Chávez has adopted a centralized goverment, ignoring laws in order to better control the opposition and increase the size of the state, leading to the destruction one of the oldest democracies in the region. The results: a much poorer population, fleeing foreign investors, and growing public debt.
I'll be translating more from the article later today.