Friday, March 23rd, 2012
In preparation for the Pope's visit, Cuban police showed up at the home of dissident Dr. Oscar Elías Biscet ordering to turn himself in by 9AM this morning.
James Glassman reports,
A Brave Man Takes on Cuba's Brutal Regime. Will the Pope Help?

"Police are in my house; bring summons for Oscar," Tweeted Elsa Morejon at 11:50 Thursday morning from Havana. "Oscar" is her husband, Oscar Elias Biscet, the courageous physician who has spent 12 of his 50 years on earth in Fidel Castro's prisons for expressing the opinion that Cubans should be free to speak their minds, to associate with whom they please, and to vote in fair elections.

On Wednesday, he voiced those opinions again in an op-ed in theWall Street Journal. "My country continues to be run by a brutal regime that oppresses the people, systematically violating our basic freedoms," he wrote. "Cuba is a police state…. They beat and harass anyone seeking peaceful political change."

Thus, a knock on the door, and the summons to appear at the police station Friday at 9 a.m.

Biscet responded as any brave person responds in the Internet age. He is not cowed. Within minutes, Biscet and his wife ensure that aphoto of the police who came to his door and a copy of the hand-written summons are circulating around the world.

Handwritten summons issued to Oscar Biscet, March 22, 2012

Soon after, I learn from one of Biscet's supporters that Oscar has no intention of showing up at the police station. Biscet says, I am told, that "if he lived in a democracy, he would have to attend, but since he lives in a dictatorship and has not committed any crimes, he will not present himself."

Babalu has photos of the police showing up at Biscet's home yesterday.

As of the writing of this post, Morejon's twitter feed has no news on Dr. Biscet.

To be continued…
Thursday, July 8th, 2010
In today's Washington Post,
Cuba to release 52 political prisoners, Catholic Church says
The Cuban government will free 52 political prisoners, Catholic officials in Havana said Wednesday, the largest release of captive dissidents in decades and a surprise gesture that could help thaw relations with the United States.

The scheduled release of those arrested in a March 2003 crackdown against pro-democracy activists on the island was brokered by the country's archbishop, Cardinal Jaime Ortega, with help from visiting Spanish diplomats.
But I thought the Cuban government says there are no political prisoners in Cuba?
The Cuban government had nothing to say about the release, and human rights activists were cautious in their response to the church's announcement.
Before you go celebrating, bear in mind that many other political prisoners will remain jailed in sub-human conditions, and that the people of Cuba themselves are hostages of the oppressive regime.
Babalu is all over the story, and has a list of the 52 to be deported from Cuba:
Pedro Argüelles Morán, Víctor Rolando Arroyo Carmona, Mijail Barzaga Lugo, Oscar Elías Biscet González, Marcelo Cano Rodríguez, Eduardo Diaz Fleitas, Antonio Ramón Diaz Sánchez, Alfredo Domínguez Batista, Alfredo Felipe Fuentes, Efrén Fernández Fernández, Juan Adolfo Fernández Sáinz, José Daniel Ferrer García, Luis Enrique Ferrer García, Próspero Gaínza Agüero, Miguel Galván Gutiérrez, Julio César Gálvez Rodríguez, José Luis García Paneque, Ricardo Severino Gonzales Alfonso, Diosdado González Marrero, Lester González Pentón, Jorge Luis González Tanquero, Leonel Grave de Peralta Almenares, Iván Hernández Carrillo, Normando Hernández González, Juan Carlos Herrera Acosta, Regis Iglesias Ramírez, José Ubaldo Izquierdo Hernández, Librado Ricardo Linares García, Héctor Fernando Maseda Gutiérrez, José Miguel Martínez Hernández, Luis Milán Fernández, Nelson Molinet Espino, Ángel Juan Moya Acosta, Jesús Mustafá Felipe, Félix Navarro Rodríguez, Pablo Pacheco Ávila, Arturo Pérez de Alejo Rodriguez, Horacio Julio Pina Borrego, Fabio Prieto Llorente, Alfredo Manuel Pulido López, Arnaldo Ramos Lauzerique, Blas Giraldo Reyes Rodríguez, Alexis Rodríguez Fernández, Omar Rodríguez Saludes, Omar Moisés Ruiz Hernández, Claro Sánchez Altarriba, Guido Sigler Amaya, Ricardo Silva Gual, Fidel Suárez Cruz, Manuel Ubals González, Héctor Raúl Valle Hernández, Antonio Augusto Villarreal Acosta.
Marc Masferrer believes there are at least 213 political prisoners and links to:
For the names of the 167 political prisoners counted by the Cuban Commission on Human Rights and National Reconciliation, click  here.

For the names of the "prisoners of conscience" recognized as such by Amnesty International, go here.
Two Cuban political prisoners have been released after they completed their respective prison terms.
21492
Monday, July 20th, 2009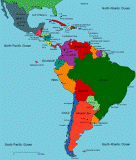 Welcome to the Carnival of Latin America and the Caribbean.
Today I join the bloggers advocating the release of political prisoner Dr. Oscar Ellias Biscet. As you know, Dr. Biscet's activism started when he saw how newborn children were murdered in Cuban hospitals. He is being held in inhuman conditions. Bloggers around the world are demanding his release.
Here is this week's Carnival:
LATIN AMERICA
Revolution Fatigue: Events in Honduras and Argentina point to a continent weary of socialism.
Latin America's economic forecast good but not good enough
Hugh Hewitt: Obama's Armada founders in high political seas
Israeli FM off on diplomatic tour of Americas
Remind me: which part of OAS is a champion of democracy and which part is golpista again?
BOLIVIA
Bolivia's divisive president: The permanent campaign
Evo Morales is a popular president, but his brand of politics is dividing his country
CHILE
Transantiago: BRT (Bus Rapid Transit) en la Alameda? (in Spanish)
COLOMBIA
US military presence in Colombia would expand with deal for greater use of air, sea bases
CUBA
Suspension of a Helms-Burton provision stirs flurry of confusion in Spanish media
ECUADOR
Correa Says Commission Will Investigate Alleged FARC Influence
Base Aerea de Manta ha posibilitado la decomisacion de 1600 toneladas de drogas ilegales
US anti-drug force flies last flight from Ecuador
French oil firm Perenco leaving Ecuador
GUATEMALA
One summer day in Antigua, Guatemala
HONDURAS
EU suspends $90m aid to Honduras
The U.S. Steers Left on Honduras
Why would Hugo Chavez expect Obama to help him?
Guatemalan, Salvadoran, Nicaraguan enemies already inside Honduras waiting for Zelaya's return
Honduras rompe paradigma en America Latina
A conversation with Jose Miguel Insulza
Israel, Iran, Honduras, and Obama's hypocrisy
Via Ace
JAMAICA
You can't deport me, I'm a lesbian: Jamaican drug dealer makes human rights plea
MEXICO
New escalation in Mexico drug war
So Much For A Fence Won't Work
Mexico and the disabled: Lending a hand
Help for the handicapped can be a way of helping everyone
The chronic Mexican brain drain: Anualmente emigran cinco mil profesionistas
Los egresados optan por viajar a países como Canadá, Francia, Argentina, Chile y España, en busca de mejores oportunidades de desarrollo y mayor calidad de vida
PANAMA
David Gas Priced July 19, 2009
PERU
Fujimori convicted of corruption
The Half-Year That Was: Bloodshed in Peru
Peru's reshuffled government: Playing for time
An unpopular president looks to new ministers
VENEZUELA
The state of chavismo
Troops seize opposition-controlled police station in Venezuela, 8 injured in protests
According to Venezuela's People's Ombudsman soaring crime is just a "sensation" created by the media
United By Hate
The uses of anti-Semitism in Chávez's Venezuela
ENTERTAINMENT
Jaime Bayly on Chavez's psychological warfare against Honduras (in Spanish):

Special thanks to Ada, the Baron, DJOS, Eneas and Maggie.
This week's posts and podcasts:
Hunter Smith talks about Honduras
Honduras: Zelaya moves his "ultimatum" to July 24
Zelaya: "I'm going back" – sometime.
BREAKING: FARC leader admits giving money to Ecuador's Correa
Chavez: Zelaya to return to Honduras "in hours" UPDATED
Honduras: Zelaya says he's on his way back
Honduras: Zelaya gives an ultimatum
Honduras: Curfew lifted
As you can appreciate, Zelaya's all talk.
At Real Clear World:
Nicaragua: Look Who Wants A Referendum?
Venezuela and Cocaine
Tuesday, August 12th, 2008
You can listen to the podcast here

Later this afternoon I'll be adding Here are the links to the posts and articles that were mentioned in the podcast:
Mary Anastasia O'Grady's
A Cuban Hero
Siggy's 'Abortion is a right that ends in sorrow. Democratic rhetoric in the future must acknowledge this fact.'
Ed Morrisey's Infanticide, revisited
Casey Fiano's Change you can believe in: Obama is PRO baby murder
Jill Stanek's articles:
Barack Obama and the Comfort Room
Biohazard bags & buckets
Breaking news: New documents show Obama cover-up on born-alive survivors bill
and my post from last year, Abortion and Oscar Elias Biscet
"the umbilical cord was cut and they were allowed to bleed to death or they were wrapped in paper and asphyxiated."
That year, I described Christ Hospital's Comfort Room, unveiled in December 2000 to counter my public statements that personnel were shelving babies to die in the department's soiled utility room next to dirty linens, bloody and biohazardous waste, and a urinal.
This was no academic debate. The issue arose when, as Freddoso notes. Christ Hospital in the Chicago area got outed for leaving these infants to die after a nurse blew the whistle on the hospital. An investigation determined the truth of the allegations, and the Illinois legislature debated on whether infants born alive during abortions should be considered persons and require practitioners to provide care for them. Obama, even with the redundant "neutrality clause" attached to the bill, said no.
Clearly, Obama lied about his position. It's no small rhetorical matter, either. His vote puts him on the extreme of the pro-abortion camp, so extreme in fact that not a single member of Congress would follow his example. Obama voted to allow Christ Hospital and other facilities performing abortions to allow live children to die.
UPDATE
Nice Deb has a complete itemization of The Exaggerations, Lies, Distortions, and Flip-Flops Of Barack Obama
UPDATE, Friday 15 August
Political Shortsightedness Dept.
Earlier today
Today's podcast will be a full-hour show starting at 11AM Eastern. I'll be talking about Obama's position on abortion and Cuba's abortion policy.
Chat's open at 10:45AM and the call in number is 646 652-2639. Join us!
Friday, June 6th, 2008
A Note from the French Lunatic Asylum

Richard Landes has a translation of an article from the French weekly news magazine Le Nouvel Observateur up at Augean Stables. Because I am unfamiliar with the naval-gazing world of the French Elite (they invented the word!), at first I thought that "Nouvel Observateur" must be some kind of French Idiom for Lunatic Asylum. The thing is such a monument to un-self conscious self-deification and denial of reality that it reads most readily as either parody or the ravings of the insane. If you read it sentence by sentence and really listen to what they are implying, it really sounds as if it was written by a group of loonies- some who think they are Napoleons, Louis XIV, a few Richelieus and a Robespierre or two- sitting around in the day room of a French mental hospital. I searched some of the names of the signatories and to my surprise, most of them appear to be out on the streets and without psychiatric "paperwork". So, I guess, it turns out that we were meant to take it seriously.
Go read the whole post, and make sure to read Circling the Wagons around Charles: Le Nouvel Obs calls for Solidarity with their colleague under attack

——————————————————————–
Getting by with a little help
… from your friends:
Mary Katherine Ham has Obama on your shoulder

——————————————————————–
New blog Versailles Beat has a great post on
Dr Oscar Elias Biscet
——————————————————————–
Don't Need a Weatherman to Know Which Way the Wind Blows
——————————————————————–
Via
Ace
, the
Amazon Wish list for the men and women recovering at the Walter Reed Medical Center.
——————————————————————–
The menu at the World Hunger Meeting:
Your UN Dollars Fighting Hunger!
——————————————————————–
Egypt Uncovers 'Missing' Pyramid
, unfortunately most of it was gone.
Speaking of archeology, Machu Picchu got looted by a German guy before Bingham got there. Too bad Klaus Kinsky is dead – Herzog could have made a great movie with Kinsky playing Berns the raider. Or will Indy get the prequel?
Wednesday, February 20th, 2008
Back in 1925 Noel Coward wrote his song We Must All Be Very Kind To Auntie Jessie, where he exhorts everyone to be kind to his very difficult and domineering aunt.
CNN must have taken Coward's advice to heart:
Michael Graham at The Natural Truth and Henry Gomez at Babalu Blog came across a memo instructing CNN anchors – imparting some "Castro guidance", that is – on how to be kind to uncle Castro:
Some points on Castro – for adding to our anchor reads/reporting:

* Please say in our reporting that Castro stepped down in a letter he wrote to Granma (the communist party daily), as opposed to in a letter attributed to Fidel Castro. We have no reason to doubt he wrote his resignation letter, he has penned numerous articles over the past year and a half.
Of course they have no reason to doubt it, because it's the Cuban government saying it. CNN would do well to ask, From Fidel, a farewell, or a fraud?
The "Castro guidance" continues:

* Please note Fidel did bring social reforms to Cuba – namely free education and universal health care, and racial integration. in addition to being criticized for oppressing human rights and freedom of speech.
On the subject of racial integration, allow me to remind you Batista was of black ancestry.
Any of you having any questions on Cuban "universal" healthcare and "free education" please click on the label "Cuba" below this post and learn a few things about the Cuban apartheid system; ditto on oppression.
Did any of the CNN correspondents in Havana contact any of the Ladies in White recently? Or any of the Cubans asking for cambio?
By the way, has anyone ever heard the name of Oscar Elias Biscet mentioned on CNN? Particulary on the issue of abortion?
* Also the Cuban government blames a lot of Cuba's economic problems on the US embargo, and while that has caused some difficulties, (far less so than the collapse of the Soviet Union) the bulk of Cuba's economic problems are due to Cuba's failed economic polices. Some analysts would say the US embargo was a benefit to Castro politically – something to blame problems on, by what the Cubans call "the imperialist," meddling in their affairs.
Thank goodness someone at CNN has figured out that "the bulk of Cuba's economic problems are due to Cuba's failed economic polices." Was high time someone did.

* While despised by some, he is seen as a revolutionary hero, especially with leftist in Latin America, for standing up to the United States.
And heaven forbid that CNN get thrown out of Cuba before they get to report that the tyrant's croaked (or after it's been made official) after half a century of ruining a people morally, financially and spiritually.
In yesterday's podcast my dear friends Siggy and Val discussed the Castro "resignation". You can listen to them here.
We weren't kind to "Uncle Castro".
UPDATE:
Via Pajamas Media, Four possible successors to Fidel Castro: Raul Castro, Ricardo Alarcon, Carlos Lage and Felipe Perez Roque.
Tuesday, November 6th, 2007
If you read yesterday's Carnival of Latin America and the Caribbean you know that President Bush has awarded Cuban political prisoner Dr. Oscar Elias Biscet the Presidential Medal of Freedom, our nation's highest civilian honor:

Oscar Elias Biscet is a champion in the fight against tyranny and oppression. Despite being persecuted and imprisoned for his beliefs, he continues to advocate for a free Cuba in which the rights of all people are respected.
Mary Anastasia O'Grady explains how Dr. Biscet came about to his path as a dissident:

He is a medical doctor. He got his degree in 1985 and just the next year he started having problems with the government and the way it operates its medical system.

But in 1998 what the did was, he started investigating the use of a drug called rivenal to achieve abortions of advanced pregnancies and he produced a study which showed that the fetuses were actually being born alive and then the umbilical cord was cut and they were allowed to bleed to death or they were being asphyxiated in paper bags, and he produced a study, he presented it to the government, and he also denounced the government for its policies.

He was fired from his job, and things have gone from bad to worse for him in the sense that his conscience just did not allow him to go back.
You can watch Ms O'Grady's WSJ interview here.
In her article, Ms O'Grady explains,

In 1998, at a Havana hospital, he took the risk of engaging in a clandestine study on the administration of a drug called rivanol to abort advanced pregnancies. The drug was being widely used, particularly on girls as young as 12, who, having been forced to leave their parents and work in rural areas as part of their schooling, found themselves "in trouble."
Let me call attention to the fact that children are forced to do this: they belong to the state as soon as they turn twelve years old. Many of the girls are raped by adults in charge of the farms. I know a woman who was raped under those circumstances: there was no possibility of prosecuting the man who raped her. Fortunately she did not get pregnant.
Ms O'Grady's article continues,

The study concluded that rivanol resulted in viable fetuses being born alive. What often happened next horrified Dr. Biscet, who later wrote that, "the umbilical cord was cut and they were allowed to bleed to death or they were wrapped in paper and asphyxiated."

As a result of his vocal opposition to these abortion practices he lost his job, his family lost their home and Castro's goons were sent to beat him up.
These are the conditions under which Dr. Biscet is held when in solitary confinement:

I have translated the video:

In the video, Dr. Biscet's wife, Elsa Morejon, explains (at great risk to herself) that this is a full-scale replica of the dungeon in which Dr. Biscet was imprisoned, "despite the fact that Cuba has signed international agreements and rules on prisoner treatment".

Ms Morejon points to a piece of paper with her husband's words on the front wall of the dungeon. Dr. Biscet spent the months of November and December, 2004, including New Year's Eve, in a dungeon like it. She points to the narrow slot on the door, for delivery of food, and in some dungeons the slots are positioned at different heights. "There are no windows, no lights since for a while he didn't have a light bulb, no ventilation, in Cuba, a country with very high temperatures".

Inside the dungeon she points to a pipe for water, a hole for latrine. She shows the actual shoes he owned during that period, and how the leather rotted. She lists the meager possessions a prisoner is allowed: underwear, a towel, a sheet, toothpaste, cup, toothbrush, soap, deodorant, sometimes prisoners are allowed to have their Bible with them. No bed is provided. The prisoner sleeps on the floor, and "sometimes they are brought a filthy mattress at 10PM".

The food they are given is unfit for human consumption.

Ms Morejon asks, "We ask the world to intercede and ask Cuba to set my husband free. He's a man who loves God and justice, who believes in non-violence, and shouldn't be there [in prison], because all he's asked for is to live in democracy in his own country".
Notice how both videos point to a total disregard for human life.
Dr. Biscet's activism started when he saw how newborn children were murdered. Now he is suffering for his decency.
Dr Sanity has posted on the illness of the soul of the island prison's regime:

The apologists of tyranny are again hard at work trying to redeem the one of the last outposts of communist enslavement. They see a "worker's paradise"; a "healthcare utopia", but underneath the civilized veneer of Castro's Cuba is the same deadening illness of the soul that infected all the other failed communist and socialist "paradises".

And for that illness, the only cure is Freedom.
(Follow the links at my post for more on the subject.)