Yes, once again, It's time to present this week's statuette of shame, The Golden Weasel!!
Every Tuesday, the Council nominates some of the slimiest, most despicable characters in public life for some deed of evil, cowardice or corruption they've performed. Then we vote to single out one particular Weasel for special mention, to whom we award the statuette of shame, our special, 100% plastic Golden Weasel. This week's nominees were particularly slimy and despicable, but the votes are in and we have our winner…the envelope please…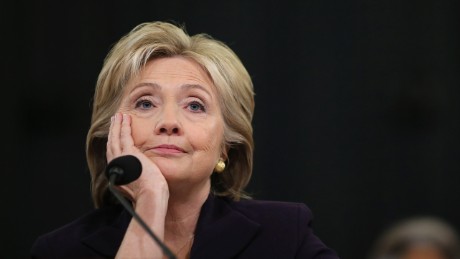 Democrat Front Runner Hillary Clinton!
Fausta's Blog: Hillary, Weasel Queen par excellence. 'Nuf said.

 The Independent Sentinel : How do you beat Hillary -lied her butt off Thursday and did it so well!
Indeed, how could you beat Mrs. Clinton's performance last week? It does indeed take a special kind of human being to knowingly lie to the entire country and to the grieving families of four dead Americans literally over their coffins. And all just to cover for Barack Obama and get him re-elected.
A number of Mrs. Clinton's friends and minions in the media referred to her performance as a 'triumph' and a 'win.' In actuality, the fact that she's unlikely to face any cost or punishment for her behavior or her illegal server and destruction of documents that were by law all supposed to be turned over when she left office is a major defeat..for the country. It always is, whenever a nation's standard of justice, integrity and trust in public officials is compromised.
That includes the partisan Democrats on the Benghazi committee as well as the media.When ranking members of an investigating committee set up by congress contemptuously break House rules and openly leak what was supposed to be closed door testimony to the media in order to undermine it, there's not much more to be said.
Well Mrs. Clinton, enjoy your Weasel. I had the names of Chris Stevens, Sean Smith, Tyrone Woods and Glen Doherty engraved on it. Since, as you say, you already live with this every day and lose sleep over it, what difference does it make at this point?
All the perfumes of Araby don't fix it. Just ask Lady Macbeth.
Selah.