Pope calling!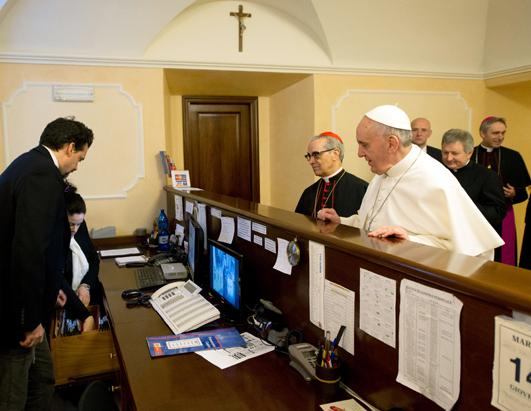 Pope Francis has been keeping in touch with his friends at the old neighborhood: Pope calls Argentine kiosk owner to cancel paper delivery

Around 1:30 p.m. local time on March 18, Daniel Del Regno, the kiosk owner's son, answered the phone and heard a voice say, "Hi Daniel, it's Cardinal Jorge."

He thought that maybe a friend who knew that the former Archbishop of Buenos Aires bought the newspaper from them every day was pulling a prank on him.

"Seriously, it's Jorge Bergoglio, I'm calling you from Rome," the Pope insisted.
…
Daniel's father, Luis Del Regno, said they delivered the paper to the former cardinal's residence every day.

On Sundays, he said, the cardinal "would come by the kiosk at 5:30 a.m. and buy La Nacion. He would chat with us for a few minutes and then take the bus to Lugano, where he would serve mate (tea) to young people and the sick."
FP Passport reports that he also called his dentist to cancel appointments.
This reminds me of my late uncle in Puerto Rico, who, when he was the Pope's age, would get up every morning, put on a suit and tie, walk to the newsstand and the coffee shop and chat with the regulars.
Tags: Fausta's blog