The first 2009 Carnival of Latin America and the Caribbean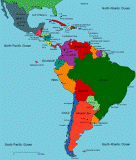 Welcome to the Carnival of Latin America and the Caribbean. If you would like your posts included in next Monday's Carnival please email me, faustaw2 "at" gmail "dot" com.
Last week Cuba celebrated the 50th anniversary of its Communist revolution. Please check the posts listed under Cuba below for a roundup of articles and posts.
Tomorrow at 11AM Humberto Fontova will be my podcast guest and he'll talk about the anniversary; in today's podcast I'll touch on Bolivia's new TV station, sponsored by Iran and Venezuela, Argentina's change shortage, and other headlines.
ANTIGUA-BARBUDA
Antigua-Barbuda opposition criticises PM for taking funds from Venezuela
ARGENTINA
Argentina Is Short of Cash – Literally
Spare some change?
Buenos Aires Becomes IT-Wise
Buenos Aires invites ITC businesses to set up in its forthcoming world-class Technology District.
BELIZE
US Southern Command donates equpment to Belize

Equipment valued at US$27,000 was recently handed over to Belize's National Emergency Management Organization (NEMO). Ceremonies were held at NEMO's Warehouse in Belmopan.

The equipment includes more than 500 folding beds commonly referred to as cots and more than 100 sleeping bags. This most recent donation is from the United States Southern Command, based in Miami.

On hand to make the presentation was United States Ambassador to Belize, Robert Deiter. In making the presentation, Deiter said the US, in assisting in the area of management this year alone, made other donations recently to the Belize Defence Force and the National Coast Guard, in addition to training in several villages across the country.

Deiter stated that he is proud of his Mission's work with NEMO in a region where disasters can and do strike/
BOLIVIA
Catholics oppose Bolivia control freak government
Morales inaugurará diario y canal del Estado con ayuda de Irán y Venezuela
BRAZIL
The samba beat, with missteps: It may be the rising power in the Americas but Brazil is finding that diplomatic ambition can prompt resentment
Confiança da indústria é a menor desde outubro de 1998, diz FGV Business confidence at its lowest since October 1998, via Market Memorandum
CHILE
Chile, interest rates, inflation, Bachelet and the central bank
COLOMBIA
Colombia mata a un Jefe de Finanzas de las FARC y a sus 4 escoltas Colombia kills FARC finance boss and his 4 bodyguards.
Colombia's Leader Digs In
After U.S.-Backed Successes, Uribe Weighs Extending Reign
Helping the Hostage-Takers: Switzerland and the Reyes Computer Files (English translation)
CUBA
Abused
50 years with Fidel Castro: how many more years of misery for Latin America?
MSM Report Card for stories about 50th Anniversary of Cuban Revolution
Grief Marks Anniversary of Triumph of Castro, via The Corner
Cuban Stalinism at 50–and the Media Lies Continue
Cuba's Long Black Spring: Video
Shame on U.S. Media for Idolizing Che Guevara
Cuban Stalinism at 50–and the Media Lies Continue
The Cuban revolution at 50: Heroic myth and prosaic failure
Ill winds: Hurricanes have added to the woes of the downturn
Where's the "patria o muerte"?
WaPo's Booth Hails 'Half-Century of Revolution' in Cuba
Two new films out this month give the full Hollywood treatment to two very different military and political heroes.
Castro's One 'Hell' of an Achievement
In Cuba, Cellphone Calls Go Unanswered
Growing Ranks Use Coveted Device for Less Costly Paging, Texts
Communism, Socialism Paradise, Cuba
Humberto Becerra Alfonso, Cuban Political Prisoner of the Week, 1/4/09
ECUADOR
Equador determina pagamento de parte da dívida com o BNDES Ecuador paid $28.1 million of its $243 million loan to Brazil's National Economic and Social Development Bank Banco Nacional de Desenvolvimento Econômico e Social (BNDES), while Rafael Correa still says the loan is "illegal." (h/t Market Memorandum)

MEXICO
In Mexico, Hope Lies With the Voters Leon Krauze's Segunda Edicion broadcasts today at 2PM Mountain time.

Mexicanas sucumben al "sex appeal" de los narcos

Mexican criminal insurgency may spread to US

NICARAGUA
Nicaragua's broken democracy

PANAMA
Home invasion in Boquerón

Elogia en La Habana a la revolución cubana Panamanian president Martín Torrijos praises the Cuban revolution in Havana.

PARAGUAY
¿El pueblo del Che Guevara? – por Eduardo Quintana

PERU
Shining Path Terrorists Threaten to Expand Attacks in Peru

PUERTO RICO
Trump development in Puerto Rico to be eco-friendly

Yahoo says Puerto Rico in top ten of world's favourite destinations

ST KITTS-NEVIS
Hanging them high: Don't bother to reform, just execute

VENEZUELA
An open letter to the critics of the HRW report on Venezuela

2008: the year Hugo Chavez lost his democratic fig leaf

Socialism with cheap oil: Hugo Chávez embarks on a race against the impending impact of world recession

Venezuela halves travelers dollar allowance to $2,500

Chavez After the Oil Boom, also at Caracas Chronicles

The Wizards of Oil: As prices fall, so do the ambitions of Vladimir, Hugo and Mahmoud.

Tras 10 años de Gobierno, se le ocurre "reducir la dependencia del petróleo"

Estos son los nuevos aviones que comprará Hugo Chávez

US POLITICS
Housing Push for Hispanics Spawns Wave of Foreclosures

Special thanks to Ada, Eneas, Larwyn, Maggie and the Baron.

This week's podcasts and posts
Denny and "the governor of all Puerto Ricans"
The disaster that is the Cuban revolution
Two photos
At Real Clear World Blog: Venezuela: 2008 in Review
Cuba: A Photograph as Metaphor